Home » Regions » Norway » Hammerfest
Hammerfest, Norway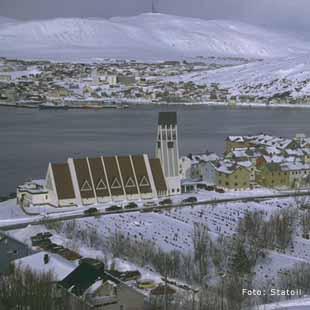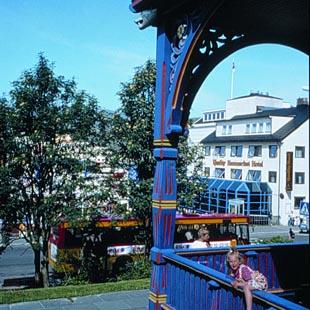 Hammerfest is located at 70 degrees north which makes it the northernmost city in the world. Even though it is located almost a thousand kilometers north of the polar circle, none the less Hammarfest has been an international center for over two hundred years. One of the reasons for this is that the relative proximity of the Gulf Stream allows Hammarfest to have a year round ice free port.
Hammerfest is also the oldest city in northern Norway and has a long tradition of being a center of hunting and fishing. About 8500 people live here year round, but almost 250,000 tourists visit every year. Tourism, trade and fishing are now the major industries that keep Hammerfest a modern center of commerce. There are also reserves of oil and natural gas in the region that the Snow White project is exploring which should keep Hammerfest growing for years to come.
There are many interesting and unusual activities in and around the city. You can play golf on the northern most golf course in the world or mush a dogsled across the stunning artic scenery.
The museum of reconstruction for Finnmark and North-Troms which opened in Hammerfest in 1998, has a modern and exciting exhibition which shows life in Finnmark and North Troms before and after the total destruction of the second world war.
One can also sample the native Sami culture of the region at Mikkelgammen. This is an authentic and quite popular village with fresh baked Sami bread, open fire brewed coffee and delicacies from traditional Sami tables.
No visit to Hammerfest can be complete without joining the Royal and ancient polar bear society. Membership is open to all who personally appear at the Society, and is true right of passage for all visitors who venture this far north.