Home » Accomodations » Hotels » Iceland » Kirkjubaejarklaustur
Hotels In Kirkjubaejarklaustur, Iceland
Kirkjubaejarklaustur, Iceland
Kirkjubaejarklaustur, Iceland
Fosshotel Núpar is a comfortable hotel in a peaceful setting, surrounded by lava fields. Fosshotel Núpar has 60 spacious and bright rooms all with big windows and balcony doors. All rooms have private bathroom with shower and beatiful view.
Kirkjubaejarklaustur, Iceland
Kirkjubaejarklaustur, Iceland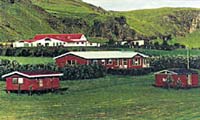 Kirkjubaejarklaustur, Iceland
Hotel Kirkjubaejarklaustur is a splendid modern hotel with 57 rooms. The spacious, comfortable restaurant seats up to 150 people. The menu is large and varied. The hotel also has a number of reception rooms suitable for smaller functions, conferences and meetings.
Kirkjubaejarklaustur, Iceland
slandia hotel is a brand new 3 star hotel, which opens on June 10th 2007. Well situated on the south shore, where the nature has a lot to offer for visitors. The hotel has a bar and a restaurant, where the breakfast and dinner buffet is served. Lunch can also be booked on special request. In the lobby we offer internet access and a sitting area.
Kirkjubaejarklaustur, Iceland