Home » Accomodations » Vadstena Klosterhotel
Vadstena Klosterhotel
Swedish Countryside Hotels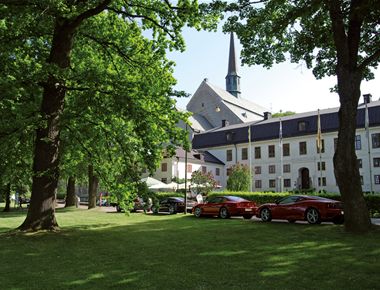 Vadstena Klosterhotel is a unique hotel in one of Sweden1s oldest buildings, an imposing 13th century convent. It is today an equally impressive hotel with every modern comfort. The convent hotel retains many of its original rooms and features. Occasionally pupils of the Vadstena Academy hold opera rehearsals here, much to the delight of the guests. The restaurant is nearby in another magnificent building.
There are many activities available including Vadstena golfcourse (18-hole course), tennis, sailing, fishing, opera and theatre, museums, nature rambles by Lake TÃ¥kern and in the Omberg nature reserve, and shopping.
Location
Vadstena Klosterhotel is 25 m from the shores of Lake VÀttern. The hotel is adjacent to the famous church of St.Birgitta, 3 minutes walk from the picturesque centre of Vadstena and 5 minutes lakeside stroll from the medieval castle. A half hour drive takes you to the Tåkern and Omberg nature reserve.
Room Info
Singlerooms 7
Doublerooms 64
Suites 4
Rooms in several buildings
Room with jaccuzzi 9
Familyrooms 4
Guestlounges 7
Open fireplace and bar
Rooms where dogs are allowed 2