Home » Accomodations » Radisson Blu Daugava
Radisson Blu Daugava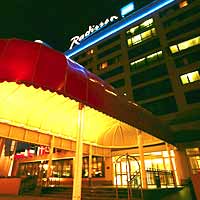 Nestled on the banks of the beautiful Daugava River and overlooking the famous Old City of Riga, the Radisson Blu Daugava Hotel is a full service first class hotel that offers its guests a high standard of service and excellent accommodation.
* The hotel is just a few minutes walk from corporate and government offices, and embassies and is about a 15-minute drive from the airport
* Our 361 rooms and suites are very well equipped and many of the rooms offer fabulous views of the Daugava River
* We offer Free Broadband, which includes High-Speed and Wireless (WiFi) Internet Access
* Guests have access to the extensive health and fitness centre with an indoor swimming pool
* Panorama Restaurant serves sumptuous international delicacies, while the Mediterranean restaurant, Talavera is known for its fine dining
* Olympic Casino is open all day, every day and has live music on certain days of the week
* We can accommodate a meeting for four or a banquet for 400 in our elegant and flexible conference facilities
Location
Situated on the left bank of the Daugava River, the Radisson Blu Daugava Hotel overlooks the Old Town and waterfront. Major tourist attractions are close by and the Riga International Airport just 12 kilometres from the hotel. We offer a complimentary airport shuttle for guests.
Distances to major points of interest:
* Airport - 12 km, 15 minutes drive
* Train Station & Central Bus station - 2 km, 5 minutes drive
* Exhibition Centre Kipsala - 2 km, 5 minutes drive
* Old City, Dome Cathedral & Blackheads house - 5 minutes walk
* Freedom Monument and Riga Opera House - 10 minutes walk
* Art Nouveau Architecture - 10 minutes drive
* Motor Museum, Open Air Museum - 30 minutes drive
* Golf Course - 25 minutes drive
* Resort city of Jurmala / Beach - 25 minutes drive
* Sigulda & Rundale palaces - 1.5 hours drive
* Livu Aquapark - 25 minutes drive
* Transportation and driving directions:
Airport: 12 km & 15 minutes drive.
From the airport take Jurmala highway into K.Ulmana Gatve - exit before the river, circle around and take the 3rd right on Mukusalas Street. Go under the bridge and the hotel will be on your left.
Train station & Central Bus station: 2 km & 5 minutes drive.
Public Bus # 3 or 38 (Bus stop Kugu street) or taxi (approx. Charge EUR 5)
Tallinn (Estonia): 307 km 4.5 hours drive
From Tallinn take the highway to Parnu. From Parnu take the highway to Riga.
This road will bring you to Brivibas Gatve street in Riga. Continue all way straight until you reach Freedom Monument and the road ends.
Turn left into (Raina blvd.) and proceed straight ahead for 2 blocks until Station Square (landmark - big station clock).
Turn right (13 Janvara st.) and go straight.
This street will bring you to Akmens Bridge. Cross it and the hotel will be on your right.
Vilnius (Lithuania): 300 km 4.5 hours drive
From Vilnius take the A2 highway to Panevezius. From Panevizius take the A10 highway to Bauska/Riga.
When in Bauska take the A7 highway to Riga. Follow the RIGA signs and road will bring first to Bauska Street and the roundabout. At the circle take the second right to Mukusalas street and go straight along the river. Go under the Bridge and you will find the Hotel on your left.
Room Info
Our well-appointed Standard rooms come with high-quality amenities including direct-dial telephones, pay television, mini bars and Free Broadband.
Ideal for business travellers, our Business Class rooms are very spacious, have a large bathroom and offer panoramic views of the Daugava River and the Old City. Business Class rooms come with extra amenities including daily newspaper and complimentary in-house movies.
Designed for luxury and comfort, our Executive suites have a separate living room with a work and lounge area and a bedroom with bath. Guests staying in our suites enjoy all Business Class amenities.
For long stays and guests who want the comfort of their own kitchen in a hotel room, we offer apartments that come with well-equipped kitchenettes and all Business Class amenities.