Home » Accomodations » Quality Voringsfoss Hotel
Quality Voringsfoss Hotel
Historic Hotels Of Norway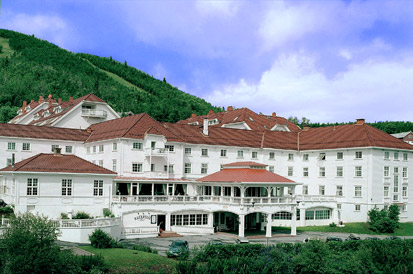 Dr Holms Hotel has been a source of recuperation, comfort and well-being since the beginning of the 20th century.
Dr Holms is situated in the heart of the beautiful mountain scenery, and is a starting point for inspiring and exiting adventures.
A visit to Dr. Holms Hotel should always be a pleasant experience. The hotel has its own Health Centre which includes Dr. Holms SPA, swimming pool, kids pool, sauna, steamer bath and exercise room. Dr. Holms SPA is the first of its kind in Scandinavia and fifth in Europe.
Location
Location
Dr. Holms Hotel is beautifully situated at Geilo, right on the entrance to Hardangervidda.
Geilo is Norways most developed skiing destination, strategically placed between Oslo and Bergen.
During the summer it is a breath taking spot with the highlands as its closest neighbour in the winter, a haven for skiers from all over Europe.
Room Info
Dr. Holms Hotel has 126 rooms:
11 single rooms, 11 family rooms , 3 suites and 99 double or twin rooms.
The rooms in Dr Holms Hotel are uniquely appointed.
If you prefer the romantic, English style, you would enjoy the classic atmosphere of the original section of the hotel.
If you are attracted to the modern and minimalist style, enjoy the clean simplicity of our bright decorated rooms in the new section.
The original section of the hotel:
In the original section of the hotel the rooms are delicately decorated in an romantic, English style. The size of the rooms may vary, as this part of the building is from 1909. It was last renovated in 1996. All the bathrooms will again be renovated within 2006. Some of the bathrooms have showers and some have bathtubs.
Our family rooms, suites and rooms for those with allergies are situated in this charming section of the hotel.
The new section of the hotel:
In the new section of the hotel (build in 1988, renovated in 1998), all the rooms are similar in size. They are minimalist in style; decorated with bright and modern furnishings. The bathrooms have both shower and bathtub.
In this part we have connecting rooms, which are suitable for families or parties that would prefer a little more space.
Facilities in all the rooms include:
Minibar
Pay-TV and cable-TV
Telephone
Hairdryer
Broadband wireless network connection (in some rooms only)
Room-service every day until 10 p.m.