Home » Accomodations » Hans Egede Hotel
Hans Egede Hotel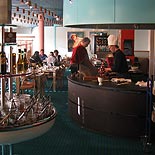 In the centre of Nuuk, centrally located for all of the town's facilities and sights-of-interest, is four-star Hotel Hans Egede. Friendly, professional service is a distinctive feature of Hotel Hans Egede for ensuring that your stay is as pleasant as possible.
The restaurant is located at the top of the hotel on the 5th floor. From here, guests can enjoy the food and impressive view of the town and fjord in peace and quiet. The varying menu offers both Greenlandic specialties as well as a good old-fashioned beef steak. The wine list also offers excellent wines.
You can enjoy your aperitif in the Skyline Bar before dinner or drink coffee and cognac afterward - often accompanied by live music, here too with a panoramic view of town and fjord.