Home » Accomodations » Edda Storutjarnir Hotel
Edda Storutjarnir Hotel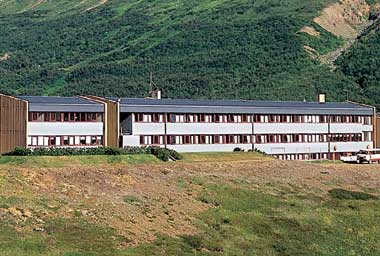 Storutjarnir offers a variety of accommodation, from sleeping-bag accommodation to comfortable new rooms with private bath. The hotel has a swimming pool with hot pot and children's play area, both indoor and out.
Location
The area offers many pleasant walks, e.g. to the picturesque Golafoss waterfall only 7 km away. Storutjarnir is within easy reach of Husavik, where whale-watching cruises are available. Beyond that is Tjornes, famous for its fossils. A visit to Lake Myvatn is unforgettable: spectacular rock formations and birdlife, mountains and hot springs. A short distance from Storutjarnir are the picturesque Vaglaskogur woods in Fnjoskadalur, and Akureyri, the main own of north Iceland, is within an easy drive.
Room Info
Rooms with washbasin are all doubles, with beautiful views of the lakes.
Rooms with private bath are spacious, with space for an extra bed.