Home » Regions » Iceland » Geysir
Geysir, Iceland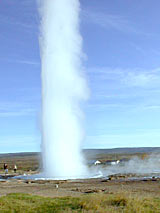 Iceland - pure, untamed nature, unbridled space, impressive waterfalls, home to one of the world's most powerful geysers.
When visitors describe the country they are hard put to find the right words for the Geyser: a spectacular water fountain, a hot water source, spouting to the heavens. The Great Geyser: you have to see it to believe it.
For someone who has never seen a geyser, the sight is overwhelming. This landmark of Iceland is a spectacular natural phenomenon beyond description.
The geothermal field surrounding the Great Geyser is the definitive geyser, having given its name to the geological phenomena.
The Strokkur, another famous geyser located nearby, gives a performance every few minutes, shooting a tower of water and steam 30 meters into the air.
There are other attractions apart from the magnificent geysers. For example, Blesi, a hot spring with water the colour of turquoise delights the senses.
Walking about this natural wonder, one experiences the intensity of the forces of nature. Night time offers a fascinating view of the bubbling hot springs. A pot of boiling water takes on new dimensions.
The Geysir-Center consists of a whole building complex with restaurant, hotel, swimming pool, souvenier shop, snack shop, gas station, multimedia show, horse rental, 4 wheels quad, and camping area.
Therefore it is not just perfect for vacationing, it's also good for day trips.
Good food, pleasant accommodations in many different variations, relaxation in the swimming pool or hot tub, and the opportunity, to inform yourself about all of the wonders of Iceland. This is all offered by the family operation directly opposite the thermal fields with Geysir and Strokkur.
Sights
Restaurant
Dining in pleasant environs is an important component to every successful vacation get-away. And how can one can enjoy the beauty of Iceland with a growling stomach?
In our restaurant you will be able to start your day off with a substantial breakfast buffet.
There are two alternatives for lunch:
You could either order something off the menu from our friendly waitstaff, or forgo that nasty decission-making and help yourself to our delicious buffet with a variety of fish and meat dishes, fresh salads, a hot vegetable cream soup and oven-fresh bread.
The ambiance gets turned up a notch in the evening. A candlelit dinner with a spectacular overlook of thermal field with Geysir and Strokkur, proves that these powerful natural wonders are not just impressive - they can also be incredibly romantic.
The restaurant is open daily throughout the year.
It is especially well suited for large parties, such as weddings, birthdays, anniversaries, cocttail parties etc. . .
You can also enjoy the Icelandic Summer by the barbeque directly adjacent to the hotel.
We are even prepared to offer you a special treat. A buffet on a glacier.
Swimming Pool
The first swimming pool in Geysir came about in 1927. At that time the pool was chiselled out of the surrounding rock and the walls were made of natural icelandic earth.
The current pool doesn't have much to do with it's predecesor. This new pool, with a length of 17.5 meters is ideal for swim training, but also perfect for easy going splashing around with the whole family.
If you're looking for a bit of relaxation after a walk across the thermal field or a trip to Gullfoss, then the two hottubs next to the swimming pool are just what the doctor ordered.
These hottubs are even open in Winter from the 1st of September to the 15th of April, when the swimming pool is closed.
Relaxation icelandic style is like lying in a big hot bathtub under the open sky.
Souvenir Shop
Buying memorabilia and postcards of Iceland for loved ones and friends at home can be stressful. It does not have to be, because one of the biggest souvenirs shop in Island offers a pleasant shopping atmosphere, and most of all a huge selection.
Among the unbeatable assortment of postcards and other classic souvenirs, there is also a collection of Icelandic woolens: sweaters, hats, and gloves from famous Icelandic wool, which awakens a longing for the cold.
Besides all of this, you'll find many books, including magically beautiful photo collections, but also works form Icelandic authors in translation.
That's not even the half of it. From Icelandic jewelry, to handmade candles, to sheep and reindeer skins and little trolls, you'll find a fitting gift for everyone. The only disadvantage is that the classic excuse, "there was nothing but kitsch in the gift shop, and that's why I didn't get you anything", doesn't count anymore.
Multimedia Show
What does a volcanic eruption look like? Whats the fascination with the northern lights all about? What do you imagine an ice cave to be like? Can you feel an earthquake without having the earth actually shake?
The answers to these and other questions are found at Geysirstofa, a special kind of Icelandic museum. Modern multimedia shows combined with a plethora of information offers visitors the opportunity to become informed about some of the inexplicable natural wonders of Iceland, and even feel it on your own body as is the case with the earthquake simulator for instance.
The upper half of the museum gives you a sneak peek into life on the island in earlier times, through carefully selected and presented exhibits, as well as four short videos about topics such as wool production, or milk and cheese processing.
Hotel Geysir was awarded the innovation prize of the Icelandic Tourist Board in 2000 for the Geysir Centre.
Horse Rental
The natural Icelandic landscape is of course just as pretty by car, as it is while hiking or biking. When youre on the back of an Icelandic horse however, you feel particularly close to the land and its beauty.
During the summer months Hotel Geysir offers a horse rental service, guiding you on varied terrain for lots of informative riding fun.
You can book the horses for hour-long or few-hours-long, or full day excursions, whether youre going through Haukadal with a view of the glacier and highlands or all the way to Gullfoss, which is equally if not more beautiful on horseback.
We also plan customized tours for a few days where you have the opportunity to layout the tour together with our guides.
Anyone who would like to not just have seen Iceland, but also to have experienced it, will have had to ridden through on horseback.