Home » Accomodations » Hotels » Norway » Trondheim
Hotels In Trondheim, Norway
The Britannia Hotel, which opened in 1897, was Trondheims first great luxury hotel, and it has been synonymous with the very highest standards of service, comfort and cuisine ever since. Even though the hotels elegant façade and stylish interior may recall a bygone age of travel, The Britannia Hotel is very much a modern hotel offering all the facilities expected by the modern-day business traveller or tourist in an atmosphere of gracious style and traditional hospitality. The hotel houses three restaurants, Palmehaven (The Palm Court) being the most famous, private dining suites, two bars and an «English Pub».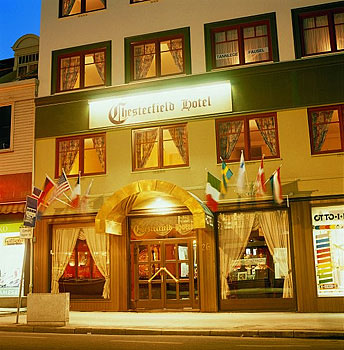 The Best Western Chesterfield Hotel is a charming centrally located hotel in downtown Trondheim, within walking distance to shopping, restaurants, pubs, museums and concert hall as well as the bus/train station. The hotel has 43 refurbished (January and February 2000) well-equipped rooms, sauna, solarium and a conference room for 20 guests. Our large rooms make the hotel suitable for families. We have non-smoking rooms available. Make sure to visit Nidarosdomen, the oldest church in Norway.
At the end of the 18th century this building was a bakery where the old society of craftsmen confronted modern times. We are proud of having preserved the history through exhibitions and embellishments we will show you the way it was at that time. We have 109 well equipped rooms and there is wireless internet connection throuhgout the hotel. We also offer two conference rooms with copacity for up to 60 people. The relax area on the 5th floor has a small fitness room, Turkish bath and Sauna with free low alcohol beer as well as an large roof terrace with a fantastic view of the centre of Trondheim Breakfast, a light evening buffet,and coffee,waffles are complimentary for all guest.
The Clarion Collection Hotel Grand Olav is the perfect choice for individuals both on business or leisure. Spacious rooms gives comfortable working conditions combined with high-speed Internet connection and International news channels. All rates include access to our superb breakfast buffet, offering cold and warm dishes. With our 106 rooms we are able to personalize our service and cater to the international business traveler.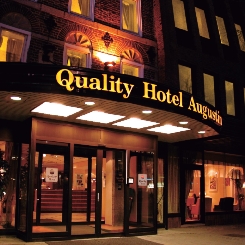 At Quality Hotel Augustin you will find rooms, facilities and service of the highest quality. The hotel is located right at the heart of Trondheim. All of Trondheimâs rich entertainment, shopping and restaurants are at your footsteps. We proudly offer 139 rooms and suites with high standard. Shuttle bus from the airport leaves you right at our doorstep Our wish is to make your stay a pleasant one, just as you deserve. This is our promise to our guests at Quality Hotel Augustin.
A 4-star hotel, Radisson Sas Royal Garden offers a unique architecture in beautiful atrium garden.
Rica Hell Hotel is one of Norway's largest course and conference hotels, offering an ideal venue for business travellers, for those looking for somewhere to stay before going off on holiday, and for business and organisations wanting to arrange conferences. An extension to Rica Hell Hotel will be completed in 2006. This extension will provide 132 new rooms and expand the conference area with a new, modern meeting room and large communal areas. In addition, Rica Travel Hotel and Rica Hell Hotel are being built next to each other, which will give 380 rooms after the expansion.
Rica Nidelven Hotel is one of Trondheim's most modern and well-equipped business hotels. The hotel is located in the centre and extends 17 meters out into Nidelven. Should you wish to take a closer look at Trondheim's outdoor life after a good lunch in our restaurant, there is a footbridge over Nidelven which acts as the gate to Solsiden and Nedre Elvehavn, Trondheim's pulsating new shopping and outdoor arena. Our art gallery with changing exhibitions and artists is open 24 hours a day.
The Selbusjoen Hotel was established in 1988 by Toril and Arild Øien who today are hosts, and together with 30 other employees offer a wonderful choice for seminares, conferences, holidays and leisure! There are many activities available including a large park, tennis, mini golf for children, rowing boats, and barbeque area. You can take a cruise on Selbusjøen with the cruiseliner M/S Jøvra (capasity 50 persons) or enjoy an excursion to a very old farm. The hotel is located close to a 9-hole golf course.
A 3-star hotel in the Thon Hotel chain.
One of Trondheim's most architecturally distinctive antique hotels, the Gildevangen sits behind a dramatic-looking facade of massive, carefully chiseled stone blocks. Originally built in 1910 as an office building and transformed into a hotel in 1930, it offers clean, uncomplicated, and quiet bedrooms, each of which has a floor plan that's a bit different from that of its neighbors.
Step through the beautiful entrance and you will find a welcoming hotel in a historic building dating from 1908. Breakfast and evening meal is always included when you stay with us.