Home » Accomodations » Union Hotel
Union Hotel
Historic Hotels Of Norway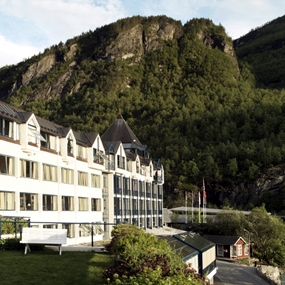 The Union Hotel in Geiranger is something rare in our time as a 100% family-run hotel. The present host and hostess represent the third generation since the Mjelva family took over the hotel in 1897, at a time when several of the guests were European royalty. Even today they occasionally delight us with their presence.
The hotel has a huge, magnificent garden with a pool.
The indoor pool area includes saunas, turkish steam baths and solaria.
Furthermore, you will find a rifle range and a room for table tennis.
Location
The incredible road to Geiranger over the mountain opened in 1889. Together with the mighty fjord, the road opened up new perspectives, in a double sense of the word, and paved the way for the investment in tourism of which Union Hotel Geiranger has played an important part since 1891. The journey here is still just as breathtaking, but much quicker and simpler, of course.
Room Info
The majority of our rooms are Standard and High standard. All are comfortable and well equipped
The junior suites are found on the top floor. We have eight suites in this category, and of course they all have a spectacular view.
The four Deluxe suites are also situated on the top floor. They are all spacious with separate bedrooms and each suite has an individual interior.