Home » Accomodations » Kvikne Hotel
Kvikne Hotel
Historic Hotels Of Norway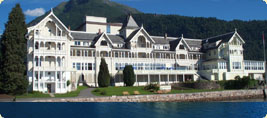 About Kvikne's Hotel
At Kvikne's the best traditions of innkeeping go right back to 1752. The Kvikne family, who still own the hotel today, took over in 1877 and a continuous process of development has been going on from that day to this.
The hotel was built in the "Swiss" style. Much new building, reconstruction and extension has gone on since, but none of it has altered the special character of this place.
Kvikne's is a modern hotel with old world charm and atmosphere and with 200 guest rooms is one of the largest tourist hotels in Norway.
The hotel is graced with an extensive collection of artworks and antiques, which give it its special style.
The list of prominent guests is a long one. Keiser Wilhelm II of Germany was a frequent guest in Balestrand. Royalty, emperors, presidents, prime ministers, film stars and artists from many countries can be found on the guest list.
Location
In Balestrand, beautifully located beside the Sognefjord, lies Kviknes Hotel.
Room Info
190 well-equipped rooms with a total of 365 beds. Most rooms have a balcony and view of the fjord. 11 demi-suites in the main building. Meeting capacity 200. Dining/banquet room for 400 guests. Dance to live music. Fully licensed