Home » Products » Best of Iceland
Best of Iceland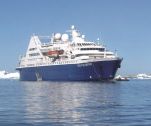 Discover Iceland's volcanic landscapes and distinctive culture onboard the OCEAN DIAMOND. This cruise brings you to pristine fjords, tremendous glaciers, hot springs and waterfalls. A range of exciting shore excursions offers countless ways to interact with Iceland's culture, nature, history and people.
Itinerary
Use your leisure time in Reykjavik to discover the unique charm of the world's northernmost capital. The OCEAN DIAMOND docks in Old Reykjavik Harbor in the heart of the city, a five-minute stroll from the main squares, shopping and dining. The ship departs in the evening.
Stykkisholmur is the starting point of our adventures on the Snaefellnes Peninsula. Often called "Iceland in Miniature" because of its diverse landscapes, the area is home to bird-rich Breidafjordur Bay and Snaefellsjokull glacier, which sits atop a 700,000-year-old dormant volcano that was featured in the Jules Verne novel Journey to the Center of the Earth.
Today's destination is Isafjordur, an idyllic town in the Westfjords region. This secluded peninsula is connected to the Icelandic mainland by only a narrow strip of land and includes many roadless areas where cars have never been. The landscape includes jaw-dropping views of dramatic fjords carved by ancient glaciers, sheer table mountains that plunge into the sea and pristine North Atlantic vegetation.
Ranging inland from Akureyri, we visit the fascinating Lake Myvatn region, where the schizophrenic landscape looks as if "heaven and hell" have clashed. One side of the lake features rugged volcanic remnants, while the other side is blessed with lush vegetation and varied bird life.
In the early morning hours we steam into Skjalfandi Bay and Husavik. Often called the "Whale watching capital" of Iceland, the town's offshore waters are home to 15 different whale species, as well as dolphins and 30 variety of bird.
The fishing village of Djupivogur is today's starting point to explore Vatnajokull Glacier (optional). Go on a four wheel-drive Jeep tour (optional) or take a boat trip in the Jokulsarlon Glacier lagoon (optional). Icebergs of all shapes and sizes are floating in the water – an unforgettable adventure.
Day 7 Westman Islands
On Board the
Ocean Diamond
Meals: Breakfast / Lunch / Dinner
Located off Iceland's South Coast, the Westman Islands were formed by submarine volcanic eruptions around 10,000 years ago. Surtsey Island emerged from the sea in 1963 and is one the youngest land masses on earth. We go ashore on Heimaey, the only inhabited island, where half-buried houses remain from a violent 1973 eruption. During the shore landing there is time for bird watching and you might even spot whales.
After breakfast we bid farewell to the OCEAN DIAMOND as we sail back into Reykjavik. You can join an optional day tour to Thingvellir National Park or you can also simply hang out in Reykjavik, a perfect city for those who want to refresh their spirit in a place that combines invigorating outdoor activities, great food and world-class entertainment. End of arrangements
Please note if you book your flight, please choose a connection that does not depart before noon from Keflavik airport on the same day the OCEAN DIAMOND arrives in Reykjavik.
Price Includes
Accommodation in Booked Cabin
Full Board
Coffee, Tea and Water
All Zodiac Tours (weather Dependent)
Icelandic/English Speaking Guide
All Presentations from Cruise Staff and Guest Speakers
On-Board Entertainment Program
Iceland Procruises Wind Jacket

Price Does Not Include
Optional Tours