Home » Accomodations » Yxtaholms Slott Hotel
Yxtaholms Slott Hotel
Swedish Countryside Hotels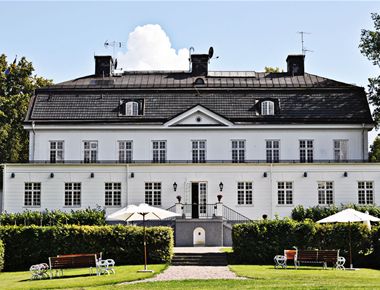 A warm welcome awaits you at this beautiful historic house in the province of Sörmland, south of Stockholm. Yxtaholm, built in 1753, is today a hotel with a restaurant and conference facilities and is renowned for its service, cuisine and atmosphere. It´s an ideal place to relax and enjoy yourself!
There are many activities available including spa-treatments, massage, rowing boats, tennis, trail riding, boule, walking, cycling, archery, golf (6 km). and Wine, Champagne and Calvados tastings. We boast one of Europe´s most prestigious collection of vintage Calvados.
The local suppliers provide our kitchen with the best that Sörmland has to offer. A well composed menu follow the range of the season. The swedish kitchen developes with segments with both a italian and french inspiration. To intensify the meal our Sommelier provide you with well composed winelist. The warm atmosphere in the restaurant invites to a quiescent dinner. In one of our launges you bring your dinner to an end over a cup of coffee and perhaps a glass of Calvados or a good Cognac.
Location
The hotel is close to the following:
110 km south-east of Stockholm, Södertälje 80 km, Nyköping (Skavsta airport) 50 km, Arlanda airport 150 km, Eskilstuna 45 km, Uppsala 120 km, Katrineholm 25 km, Norrköping 53 km and Flen (train station) 4 km.
Local excursions include Rockelstad castle, Åkerö Castle, JulitaGård open-air museum, lake Båven, the charming old town of Malmköping and a selection of Sörmland industrial heritage sites.
Room Info
Singlerooms 21
Doublerooms 22
Suites 2
Rooms in several buildings
Rooms w. dogs are allowed 2
Familyrooms 5
Guestlounges 4
Minisuites 3