Home » Accomodations » National Hotel
National Hotel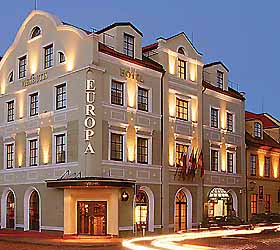 The EUROPA ROYALE KLAIPEDA Hotel is established in a thoroughly reconstructed building at the old town of the seaport where one of the best-known Lithuanian seacoast hotels used to operate more than 100 years ago. The windows of the four-star hotel overlook the Dane river embankment and Klaipeda old town area with its romantic sights.
Its superb location, unrivalled service and comprehensive facilities makes the Europa Royale Klaipeda Hotel the ideal choice for both business clients and those enjoying a holiday on the spectacular Baltic Coast.
Room Info
EUROPA ROYALE KLAIPEDA Hotels 50 guest rooms, including 7 exclusive Suites and 8 elegant Deluxe rooms reflect the quiet charm of Klaipeda town. Almost all guest rooms offer attractive views, whether of the Klaipeda old town or the Dane river enbankment. Well-defined work areas allow guests to remain productive and focused, with technology for communication and entertainment, including Internet access throughout.
Warmly decored Standard Rooms overlook the city and the Dane river. Similarly sized elegant Deluxe Rooms and Junior Suites have relaxation areas and some have third bed, and are recommended for larger families.
Very bright and elegantly furnished Suites include an expansive living room with comfortable lounge chairs and couches, some Suites have private terraces overlooking Klaipeda old town.
The luxurious Royal Suite on the 4th floor offers a romantic view of the Klaipeda old town roofs. The Royal Suite has a separate bedroom, with king-size bed, separate living area, a working desk, a marble bathroom and a large private terrace with outdoor furnishing.
Families and Special Needs
Children under 12 can be accommodated at no additional charge in their parents room or suite in an extra bed or crib available upon request. No-smoking rooms are also available. We recommend contacting the Hotel directly to make the best arrangements
Services and Amenities in your Room
*
Hair dryer
*
Air conditioning system
*
Satellite TV
*
Radio
*
Heated bathroom floor
*
In-room safe
*
Non-allergenic pillows available
*
Minibar
*
Bathrobes and slippers (in Suites only)
*
Telephone in the WC
*
Twice-daily housekeeping service
*
Internet connection
*
Work desk area
*
Handicap facilities
*
Wake up service