Home » Accomodations » Hackeberga Slott Hotel
Hackeberga Slott Hotel
Swedish Countryside Hotels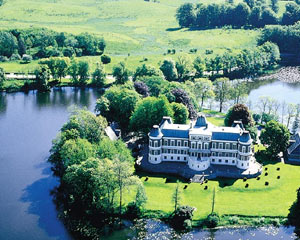 Legendary Häckeberga Castle, which dates in part back to the 14th century, enjoys a marvelous setting on one of seven small islands in Lake Häckeberga. The castle, which has been owned by the Tham family since 1824, was praised the writings of world-famous Swedish botanist and traveller, Linnaeus. The present building, built in 1875, and its grounds offer myriad opportunities for enjoyment, both cultural and outdoor The castle restaurant offers fare of the highest gastronomic quality - the menu is designed in harmony with the passing of the seasons. How about a nice drink on the terrace with a view of the lake or a coffee in the comfortable salon? We hope you'll sleep well here, the castle's history is very much alive.
Location
The hotel is located 12 km from Malmö/Sturup Airport, Lund 25 km, Malmö 35 km, Ystad and Trelleborg 30 km.
The castle is situated within easy reach of most of the attractions and sights of South-West Skåne and the Österlen district.
Room Info
Singlerooms 6
Doublerooms 13
Rooms in several buildings
Guestlounges 1
Disabled-friendly rooms 1