Nidos Smilte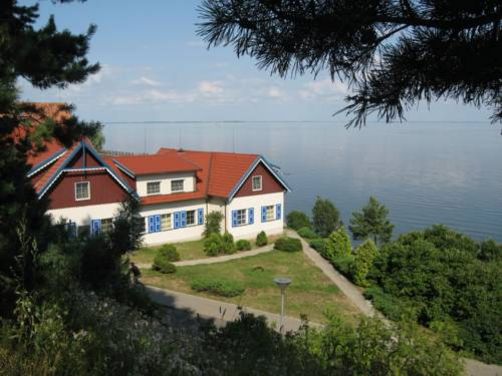 Nidos Smilte Hotel is located in the Northern part of the Curonia Spit, on the coast of the Curonian Bay, beside the Memorial Museum of Tomas Mann.
The hotel complex is comprised of three villas: Vaiva villa, Svajone villa, and Kregzdute villa. This is a three-star hotel, which is getting liked by the tourists from other European countries more and more.
The hotel stands out with its history. This is former guesthouses of Hermann Blode, in which Nida artists colony was originated in 1890. This magic place is ideal for those, who want to experience the harmony of a human, wild nature, and architecture.
Room Info
Villa "Vaiva"
This is central building of the hotel, three-storey; it houses 30 double standard bedrooms, registration place, restaurant, and conference hall. This villa is excellently suitable for big groups of tourists.
Villa "Svajonė"
This is a historical one-storey building with an attic, which is included into urbanistic monument protection zone. There are 27 standard double bedrooms and 3 apartments in the villa. Museum, where you can get acquainted with the hotels prehistory, is equipped here. The house was reconstructed in 2004.
Villa"Kregdutė"
22 standard double bedrooms and 2 apartments are in the villa. Reconstruction of the building was completed in 2003.