Brunnholl Farm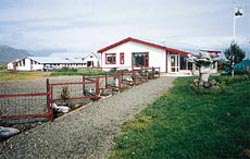 Brunnholl offers accommodation in a separate building for twenty guests in ten rooms. Six of those have their own bathrooms. The house is specially designed for easy access for everyone so disabled and handicapped people should find Brunnhóll an excellent choice.
For breakfast we offer you freshly baked pancakes, Icelandic style, and we also offer home-style meals on request.
For those who like to cook for themselves we have cooking facilities so as you can see we try hard to cater to everyones needs and wishes!
Brunnhóll is a working farm and we encourage our guests to take part in the farming activities. We have cows, sheep, horses and our pets are always very popular with the children.
Brunnhóll is situated by road 1, about 30 km west of Höfn. We are thus conveniently situated for sightseeing tours to Vatnajökull glacier, the Jökulsá lagoon, Lónsöræfi, etc.
You can drive all the way to glacier Fláajökull and the peaceful outdoor recreation area, Haukafell, is not far.
We offer guided tours around the neighborhood, bicycle rental and in the autumn, geese hunting.
The bus from Jöklaferðir (Glacier Tours) and the scheduled bus Reykjavík-Höfn-Reykjavík, stop by the farm.
Location
Located in the country side. By road # 1 on Mýrar Hornafjordur area. About 30 km west of Hofn village.