Home » Accomodations » Vraa Castle Hotel
Vraa Castle Hotel
Danish Castles & Manor Houses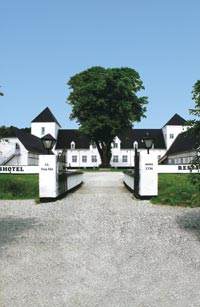 Vraa Castle Hotel is located near Tylstrup, north of Aalborg. The castle, built in 1645, is surrounded by a moat and is located in an old manor park.
Vraa Castle Hotel houses a cozy restaurant that has been renovated with most care and respect for its old style and design and with an exit to the terrace and castle gardens. The Great Hall is situated on the ground floor in the main wing next to the bar and lounges.
Located in Vendsyssel, 20 minutes from Aalborg Airport and a few minutes drive from the highway leading North and South, Vraa is easily accessible. The historic salons and halls are beautiful surroundings for meetings, conferences and family events.
All rooms are newly renovated with canopy beds and a view to the park and moat. The castle can house 100 sleeping guests divided into 40 rooms.