Home » Accomodations » Corinthia Hotel
Corinthia Hotel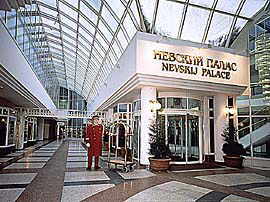 Comfortable 5-star hotel on the citys main avenue Nevskiy prospect. The facade has preserved its original historical style, inside hotel is rebuilt and has over 282 comfortable modern designed rooms. Totally the hotel has 150 Classic rooms of which 90 twins, 60 doubles and 2 singles,
43 Deluxe rooms, which are larger in size and of which 19 twins and 24 doubles, 12 Smart rooms with mini-office, 8 Junior Suites and 19 Executive Suites, all of them with king size beds. There is a Executive Floor with own Lounge and 37 Standard rooms, 5 Deluxe rooms, 3 Smart rooms and 2 Executive Suite, all of the rooms are with king size beds and additional amenities such as fruits and champagne in the room, free of charge laundry and so on. There is also one President Deluxe room. The hotel has fully equipped business center, meeting and banquet facilities and also a unique attraction - in-house Samoilov Theatrical Dynasty Museum. Several restaurants: Imperial , Admiralty, Landskrona, Cafe Vienna and 2 bars: Lobby Bar and Beerstube. Beerstube serves buffet lunch Mon-Sat.
Guests of the Corinthia Nevskij Palace may enjoy a Health club with an outdoor terrace, fitness
equipment, Jacuzzi, sauna and massage service; shopping alley with a beauty salon, jewelry and antique shop, art gallery, money exchange office and airline offices; limousine and airport transfer service. All major credit cards are accepted in the hotel. The hotel is under International management. Buffet breakfast
Location
Located on St.Petersburg's main boulevard, Nevsky Propect.
Nearest metro station: Vladimirskaya, Dostoevskaya, Mayakovskaya abt. 5 min. alk.
Room Info
Room facilities: air conditioning, direct dial satellite telephone and voice-mail, radio, TV with satellite channels, minibar, bath/WC, hairdryer, in-room safe.